---
We are open!
---
Join our email list!
---
Sunny Dunes Parking lot repaving – no parking notice
The parking lot surrounding our room will be repaved on Tuesday, October 19th. 
Please don't park anywhere in the red area on the map below: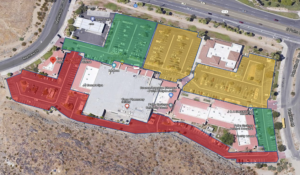 ---
Sign up for the Sunny Dunes phone list!
We are doing a complete purge of the current printed phone list as we are running out of space.
If you'd like to be on the new list, even if you are on the list now, please visit this page to sign up
---
The Central Intergroup Office of the Desert
View monthly intergroup meeting reports here
---
Hybrid meeting how-to!
An instruction book on how to operate the hybrid meeting equipment in Sunny Dunes has been put together. It's a very simple process but it does require following a number of steps. If you already know how to use the equipment and are willing to be of service by teaching others how to navigate through the system, please put your name and number in the front of book, which is located in the podium at the front corner of the room.
---
Room Search Update
Read about our search on the Room Search Update page.
Thank you,
Sunny Dunes Executive Committee
---
Update from the AA Grapevine
Following the 2021 General Service Conference action, AA Grapevine, Inc. will be starting Instagram accounts for both AA Grapevine and La Viña magazines.
---
The Desert Lifeline
A publication of the Central Intergroup Office of the Desert
October 2021
Click here for past issues
The Desert Life Line is a publication sent out each month by Central Office for the entire Coachella Valley. If you would like to share your Experience, Strength and Hope on any of the 12 Steps, Traditions or Concepts for future publications, please submit to David Middleton, Manager Central office at manager@aainthedesert.org
---
SPECIAL NOTICE:
Our 7th Tradition states:"Every A.A. group ought to be fully self-supporting, declining outside contributions."
Please consider making a (regular) contribution to our Sunny Dunes Group.
Checks can be mailed to:
Sunny Dunes 5th Tradition Group
4711 East Palm Canyon Drive, Suite B
Palm Springs, CA 92264
Zelle payments: SunnyDunes5th@gmail.com  |  Paypal: Click this link to make a donation
---
Alcoholics Anonymous is a fellowship of people who share their experience, strength and hope with each other that they may solve their common problem and help others to recover from alcoholism. The only requirement for membership is a desire to stop drinking. There are no dues or fees for AA membership; we are self-supporting through our own contributions. AA is not allied with any sect, denomination, politics, organization or institution; does not wish to engage in any controversy, neither endorses nor opposes any causes. Our primary purpose is to stay sober and help other alcoholics to achieve sobriety.
Copyright © by The A.A. Grapevine, Inc
---
Our location is: