Sunny Dunes Steering Committee
September 14 – 6:30pm
Meeting ID 782-230-852 or
Officer elections will be held!
If you are having an anniversary or need literature or chips; see Gerard at the Sunny Dunes Location on Saturdays from 11am to 12noon. All chips up to 50 years.
All in-person Sunny Dunes Meetings have been cancelled due to the Coronavirus Pandemic by the City of Palm Springs as well as the County of Riverside, effective 7am, March 18th, until further notice. For more information, contact: Bryan Duke, Steering Committee Secretary at 760-898-8168
Online Internet Group Link: https://www.aa-intergroup.org/directory.php
SPECIAL NOTICE:
Our 7th Tradition states:"Every A.A. group ought to be fully self-supporting, declining outside contributions."
As you can imagine, AA contributions are now falling off sharply. Our meeting room may be empty, but the rent still needs to be paid. Please consider making a (regular) contribution to our Sunny Dunes Group.
Checks can be mailed to:
Sunny Dunes 5th Tradition Group
4711 East Palm Canyon Drive, Ste. B
Palm Springs, CA 92264
PayPal and Zelle payments:
mailto:SunnyDunes5th@gmail.com
Alcoholics Anonymous is a fellowship of men and women who share their experience, strength and hope with each other that they may solve their common problem and help others to recover from alcoholism. The only requirement for membership is a desire to stop drinking. There are no dues or fees for AA membership; we are self-supporting through our own contributions. AA is not allied with any sect, denomination, politics, organization or institution; does not wish to engage in any controversy, neither endorses nor opposes any causes. Our primary purpose is to stay sober and help other alcoholics to achieve sobriety.
Copyright © by The A.A. Grapevine, Inc.
Our location is at: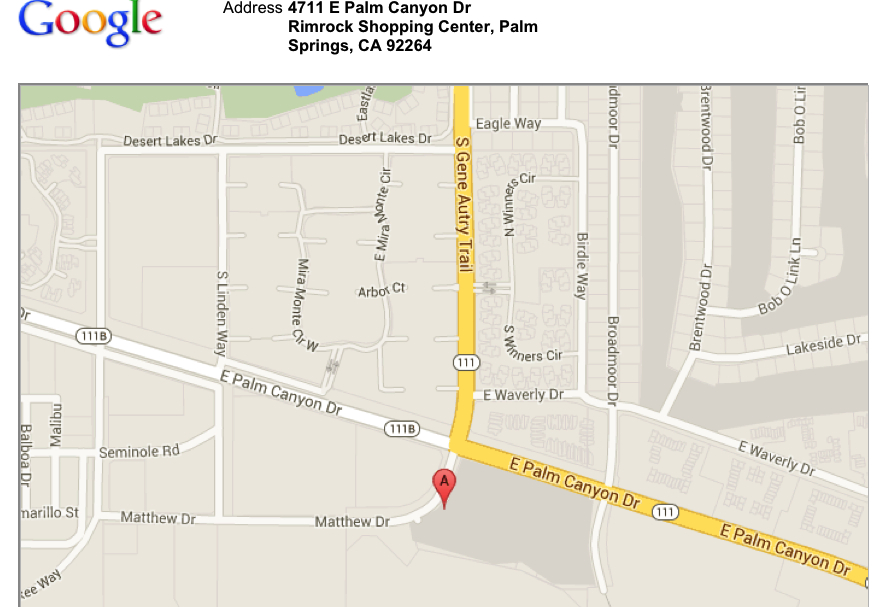 (Site Photo by Gym C.)